With Injustice: Gods Among Us out in less than 2 weeks, all of the playable characters have been announced. Being unprepared is a good way to end up with you being crushed under someone's boot, so forewarned is forearmed. Here, we break down each character's special trait and super move.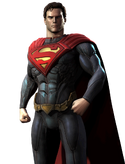 Character Trait
Superman's character trait is the ability to absorb energy from Earth's sun. Using Superman's character trait gives him a temporary stat boost of power.
Superman can dash either forward or backward while in the air.
Super Move
Kryptonian Smash: Superman flies toward his opponent and grabs him/her. He then uppercuts his opponent  into space, and sends the opponent back down to earth with a hammer fist.

Character Trait
Wonder Woman's character trait is the ability to switch weapons from a Sword and Shield to the Lasso of Truth.
Both weapons enable her to use exclusive special moves depending on which weapon she is using.
Certain moves can be stance cancelled for new combo opportunities.
In her Sword and Shield stance, Wonder Woman takes less chip damage on block.
Super Move
Justice Javelin: Wonder Woman lassos the opponent and calls her two Amazons. One Amazon holds the opponent and knees him/her in the back, then the second Amazon breaks a spear across the opponent's face. Finally, Wonder Woman pulls the opponent towards her and slashes him/her with her sword.

Character Trait
Batman's character trait is the ability to call three robotic bats to swarm around him. These bats can be used in two ways; an offensive and a defensive way.
The offensive way allows Batman to shoot one robotic bat at a time without performing an animation, this allows for new combo opportunities, additional damage and pressure on the opponent.
The defensive way puts Batman in a parrying stance and makes all the bats swarm around him, all physical attacks dealt to Batman in this state will be countered by launching the opponent in to the air and enables Batman to follow up with a juggle combo.
Super Move
The Dark Knight: Batman throws a smoke batarang at the opponent, quickly inputs his co-ordinates to the Batmobile, then shocks the enemy with two tazers and follows up with a knee to the face. He then throws an explosive batarang at the opponent and the Batmobile drives in to run over the opponent.

Character Trait
Aquaman can recover from reactions faster, allowing him to break combos or attacks easier.
Super Move
Atlantean Rage: Aquaman summons a powerful wave to waterlog the arena washing the opponent away. He then uses his trident to stab the opponent and catch him/her before thrusting his opponent into the ground, then holding him/her up into the path of a Great White Shark which then bites the opponent and swims away before all the water and creatures in the arena leave.

Character Trait
Green Lantern's character trait is the ability to charge up his ring, granting him additional damage for a limited time.
Super Move
Beware My Power: Green Lantern teleports his opponent to the Green Lantern homeworld of Oa. He then hits his enemy with a hammer, smashes two buses into them, then fires a swarm of jets and missiles into the opponent before teleporting him/her back to the stage.

Character Trait
The Flash's character trait is the ability to slow down the opponent as if The Flash was moving super fast. It enables him to perform combos that weren't previously possible and also allows him to easily dodge attacks from his opponent.
Super Move
Speed Zone: The Flash slows down time and hits the opponent, he then runs around the world really fast, punches the opponent in the air, jumps up and punches him/her back down.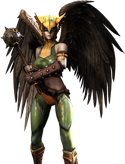 Hawkgirl's moveset involves her mace. She is able to hit her opponent with the mace on the ground, and in the air.  Her wings also allow her to remain suspended in the air for a brief period of time.
Super Move
The Power Of Nth: She takes her foe up into the air and smashes him/her twice in the face with her mace, and then sends her opponent flying back to the ground.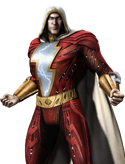 Character Trait
Shazam's character trait is the ability to call forth power from The Wizard, which gives him a temporary stat boost of power.
Super Move
High Voltage: Shazam uppercuts his enemy into the stratosphere and pummels his opponent with a series of blows. Then he elbows the opponent in the back, grabs his enemy by the legs, spins his enemy, and throws his opponent back on the ground.
Character Trait
Solomon Grundy's character trait is a throw that can be linked with multiple other throws. Up to 3 types of throws can be chained into, each granting him a special ability, such as regenerating health, giving him a temporary power boost or even buffing his defense for a limited amount of time.
Super Move
When Solomon Grundy activates his super move, he enters a new mode where he gains armour for a limited amount of time until his super meter is drained. Any physical attack Solomon Grundy uses initiates his super move, no matter if his attacks connect in air or on the ground.
Grave Digger: Solomon Grundy pulls a cleaver out from his back and slices his enemy with it, he then proceeds to pick up the enemy and throw him/her. As the enemy gets up, Grundy pulls out a tombstone from his chest and smashes it over his/her head.
Character Trait
Lex Luthor is able to summon a force field for a short period of time, protecting him from attacks
Super Move
Coordinates Received: Lex traps his enemy in an energy field and quickly types in a few coordinates to a satellite. The satellite shoots down a laser which Lex catches and focuses into an energy ball which he smashes on top of his enemy. The explosion can be seen from space.
Character Trai
Nightwing's character trait is the ability to change his weapon from Escrima Sticks to a Staff. This helps him deal with a large amount of situations and get an edge over power users.
Escrima Sticks allow Nightwing to walk, dash and jump faster and farther for the cost of attack range.
Using the Staff fighting style increases the range of Nightwing's attacks at the cost of mobility.
Certain moves can be stance cancelled for new combo opportunities.
Super Move
Dark as Night: Nightwing jumps onto his motorcycle and repeatedly slashes the opponent with electrified blades on his gauntlets. Nightwing then jumps off of his motorcycle to slam his electrified staff into his opponent's chest.
Character Trait
Joker's power is a high and low parry. When you hit successful it gives you a "ha", each "ha" improves Joker's walk speed and jump arcs. When he reaches "hahaha" he is near insane and even has unblockable moves.
Super Move
Joker's Wild: Joker throws a pie at his opponent's face. As soon as the opponent wipes it off, Joker assaults his opponent with a crowbar and a canister of Joker Venom, then shoots his opponent in the face. While the opponent is on the ground, Joker gets on top of him/her and shoots the enemy point blank with a rocket launcher.
Character Trait
Harley Quinn's character trait is the ability to pull out a random item, which can be used to help her in the fight. Sometimes Harley will pull out an item that is not of any use which will leave her in a frustrated animation, to which she is vulnerable to attacks from the opponent.
The items that can be pulled out and their abilities include:
Picture of The Joker – Gives Harley a strength boost
Time Bomb – Harley tosses the bomb, causing big damage
Poison Ivy Plant – Over a period of time, Harley`s health returns
Super Move
Mallet Bomb: Harley pummels her opponent with a mallet knocking him/her back before she runs and slides, placing an exploding pie underneath the opponent. This super move can then be followed up with a combo.
Character Trait
Green Arrow's character trait is the ability to use his arrows with a single button press. By pressing certain directional inputs with the character trait button, it allows Green Arrow to change the type of arrow he uses into one of three elemental types.
If the Character Trait button is held down, it allows Green Arrow to charge the arrow, as well as move around and jump with it and aim where he wishes to shoot it. This can also be dash cancelled if the player chooses to not shoot the arrow.
His Default Arrow deals little damage but can be used unlimited times.
His Fire Arrow deals the most damage of all the arrows, including damage over time, and has a blast radius which can damage himself as well as his opponent.
His Electric arrow deals less damage than his Fire Arrow, but stuns the opponent for a small amount of time for combo opportunities.
His Ice Arrow deals the least damage out of all his elemental arrows. They freeze the opponent, leaving him/her open for follow up combos.
Super move
Arsenal Assault: Green Arrow shoots an explosive arrow that launches the opponent in the air, then grapples the opponents to the ground and leaps over him/her shooting several exploding arrows. This super move can then be followed up with a combo after.

Character Trait
Cyborg's character trait is the ability to regenerate health. The longer the button is held, the more health Cyborg regenerates.
Super Move
Target Lock: Cyborg summons a giant laser cannon and shoots the opponent.

Character Trait
Deathstroke's character trait makes his bullets unblockable for a short period of time followed by cooldown where the bullets always miss as confirmed by Hector Sanchez from Netherealm.
Super Move
Lawless: Deathstroke slices the enemy with his sword, throws it into the air, shoots him/her in the face with his handguns,  impales his opponent with the sword by kicking it into his/her chest, and shoots his opponent with his sub-machine guns.
Character Trait
Summons 3 lightning orbs that circle around him, that damages those who come into contact and cancels out projectiles. Recharges after 5 seconds.
Super Move
Lightning-Breaker: Black Adam dashes and punches his opponent, then uppercuts him or her with a lightning charged punch, knocking him or her into the air where he follows up with a knee to his or her jaw before grabbing him or her and shouting, "SHAZAM!" He then throws him or her onto the ground where a lightning bolt strikes him or her and ends the attack by landing on him or her with a powerful drop kick.
Character Trait
Catwoman's character trait is the ability to perform a small combo which is best used at the end of combos. Her character trait requires her to land a certain number of hits on her opponent until it can be used.
Super Move
Scratching Pole: Catwoman kicks the opponent up into the air and then grabs him/her with her whip and slams him/her into the ground, head first. She then jumps on to the opponent, straddling his/her neck and claws her opponent's face a few times. She then backflips while slamming her opponent into the ground with her legs.
Character Trait
Bane's character trait is the ability to use his signature drug – Venom. Using Bane's character trait gives him a temporary stat boost of power.
Super Move
The Bat Breaker: Bane runs forward and grabs the opponent, punches him/her in the gut, launches him/her with an uppercut to the face, grabs the opponent by one leg and slams him/her to the ground, and then performs his infamous Back Breaker on him/her.

Character Trait
Ares's trait allows him to use one of two weapons, a large sword or a large two-headed battle axe. This is unlike Wonder Woman's and Nightwing's style change trait because Ares uses the weapons as projectiles or to extend a combo.
Axe- Ares summons the axe as a projectile toward or above the enemy
Sword- Unknown
Super Move
Ares summons his battle sword and slashes his foe into his dimension where he commands a rain of arrows upon his opponent. He then enlarges himself and smashes his opponent back to the normal dimension.

Character Trait
Raven's character trait gives her a boost of strength for a short period of time and enables her to use new special moves exclusive to when she uses her character trait. This happens when she utters the word "Azarath", or says, "Darkness take me."
Super Move
What Lies Beneath: Raven teleports her opponent to a dark dimension where she summons three demons to attack her enemy. She then summons Trigon to attack by shooting burning rays from his eyes which takes the fight back to the original arena that you started on.

Character Trait
When activated, Doomsday's body turns into hardened rock which allows him to become near invulnerable, preventing pop-up combos, makes enemy's projectiles ineffective and cancels throws.
Super Move
Merciless: Doomsday slams his opponent onto the ground and starts punching him/her relentlessly through the center of the Earth and out into the ocean on the other side. He then punches his opponent back through the Earth and back to their starting point.

Character Trait
Sinestro will take time to activate a sentry that will fire 3 times with 5 second intervals, similar to Batman's character trait.
Super Move
Sinestro's Might: Sinestro creates a portal to outer space and drags his enemy through it. He then makes two asteroids smash into his enemy, then he sends his opponent back to earth with a laser cannon.

Character Trait
Killer Frost's trait is that she can charge her cold meter and when it fills up it will begin to decrease and during this time all of her physical attacks will freeze her enemy, allowing for much longer combos.
Super Move
Killer Frost impales her opponent with three ice spikes from the ground, pinning them down. She then summons a snow/ice storm around them and creates two solid ice spiked plates to the left and right of her opponent and making them crash into each other. She then creates one spiked plate above the opponent and smashes it down on him/her.
And there you have it. This breakdown should help prepare you for some of the potentially deadly weapons in a characters arsenal.